Waterloo Motors has been around for decades, and as some of the others have come and go, it's easy to see why. They are by far the most knowledgeable shop around, and are true "experts" in the field of imported automobiles.Steve S. - Warrenton, VA
Waterloo Motors has been servicing imported cars and trucks since 1981.
Our mission is to offer legendary service. We specialize in the service and repair of imported vehicles and strive to provide the best automotive service in the area at a reasonable rate.

Meet the owner - Dan Lowery
All or nothing could be Dan Lowery's motto - he approaches life and work with all his enthusiasm and attention because there'd be no point in doing it any other way.
The owner of Waterloo Motors, Inc. (a repair facility for import cars) since 1981, Dan's interest in cars began when he was a teenager growing up in Warrenton. He wanted his own car and thought the only way he could afford one was to build it himself. But instead of the standard '57 Chevy, he turned to import cars because they often didn't run well in those days and people wanted to get rid of them. So they were available - to those who could repair them.
Dan went to community college briefly to study automotive engineering but left when he realized his interest in cars was hands-on. In the late 1960s he got his first full-time paid job as a mechanic for Heishman Volkswagen in Arlington and worked up and down the row of Heishman dealerships (BMW, Porsche, Audi) through 1980. Marriage to Linda, whom he met in the 11th grade at Fauquier High School, 2 "great" kids (Meaghan & Brock), and a 200-year-old house they restored in Warrenton - helped convince him to open his own place. "The dealer ethic changed from service oriented to sales, " he explains, "and I really hated commuting." He leased an old school building next door to his present location on E. Shirley Avenue, then bought the property and designed and "built my own place."
"Cars are too complicated to fix at home," he emphasizes. "It takes incredibly intelligent people to be auto technicians - there are no automotive mechanics now." Repairs, he adds, need to be done by skilled technicians who are computer literate and highly educated. "They have to be able to use the diagnostic systems on the computer."
One of the things Dan enjoys most about his work is that there's "always something new. I've been able to see dramatic changes - more in the last 5 to 8 years than since cars were invented." Another thing he likes is people. "I enjoy this business, working with people, working with the automobile trade." High quality service for import cars is what Waterloo Motors offers the area, Dan emphasizes. "I like import cars because of the high-quality of the product, and we've been successful because of our straight-up honesty with people." The most important, and most expensive, element of car repair is diagnosis, he notes. So it's crucial for him to convey customer concerns to the technician - a skill and strength he attributes to his 52 years of experience. "I go out of my way to help my customers understand their car problems."
Dan's enthusiasm for his work extends to teaming up with local schools to promote the automotive care career field, because, "I want to get people involved in this business, " he says. "It's a great trade." In the future, Dan hopes to offer classes at the shop to youngsters starting to drive to teach them about car care and maintenance as well as about responsibilities such as insurance. "I like achieving things," he observes. "I set goals and try my damndest to reach them."

OUR STAFF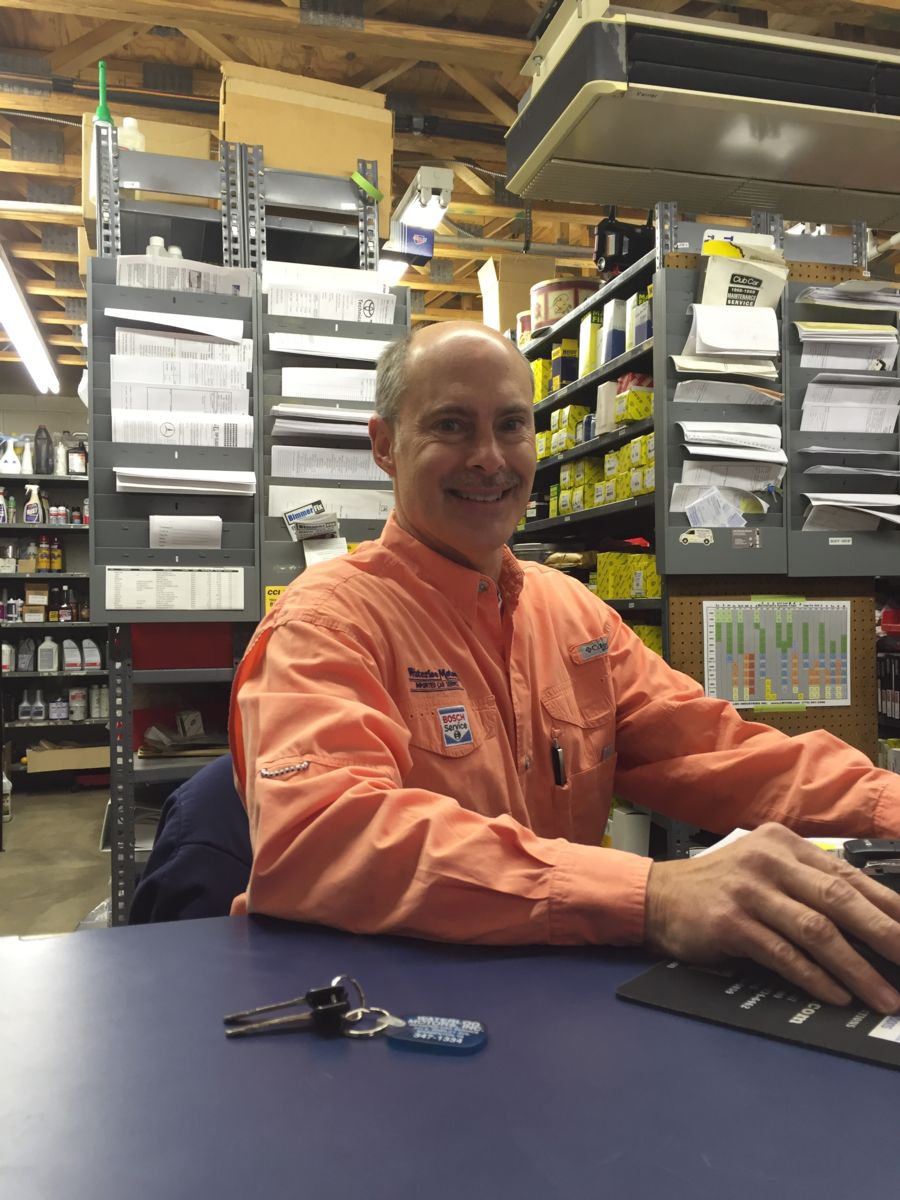 JOHN - SERVICE MANAGER
BOSCH TRAINED MASTER TECHNICIAN
I started working on cars in my backyard at about the age of 15. My first job was at a Chevy dealer in 1980. I started at Waterloo Motors in May of 1993. That was a big turning point because I had never worked on European cars before. After realizing that there was not much difference it came easily to me. While working at Waterloo I have been trained at the Bosch schools for diesel, fuel injection, and electrical systems. I have been fortunate to have all the right equipment and resources to work on these cars, as the technology changes very fast. The biggest challenge is that, as I have gotten older there are some jobs that are more physically demanding.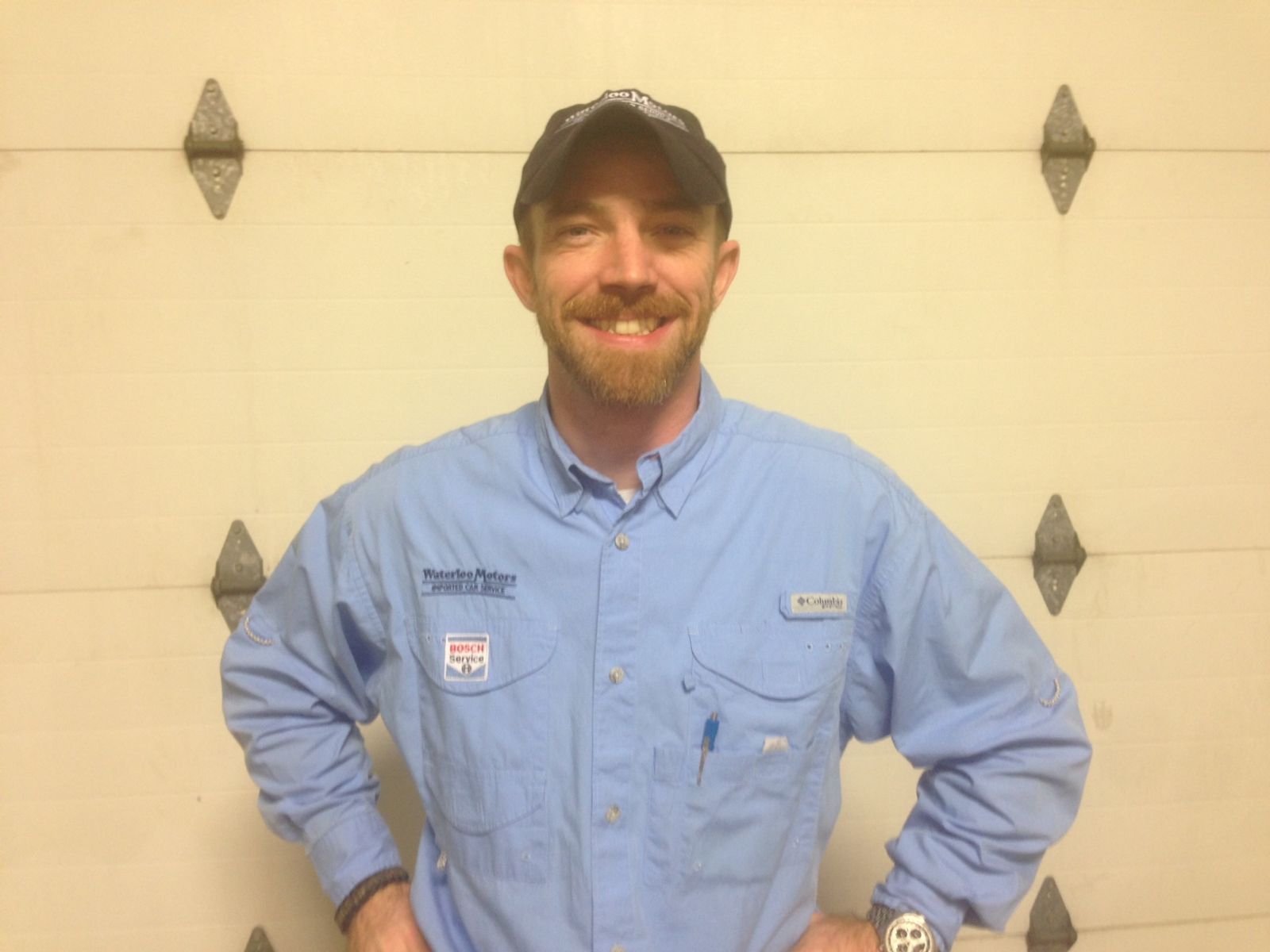 DAN LOWE - SERVICE / COLLISION ADVISOR